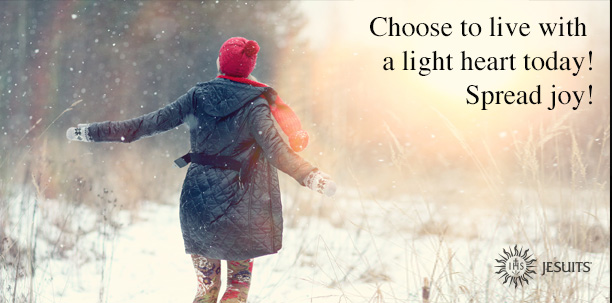 December 5, 2023
Dec 5, 2023
Luke 10: 21-24
At that same hour Jesus rejoiced in the Holy Spirit and said, "I thank you, Father, Lord of heaven and earth, because you have hidden these things from the wise and the intelligent and have revealed them to infants; yes, Father, for such was your gracious will. All things have been handed over to me by my Father; and no one knows who the Son is except the Father, or who the Father is except the Son and anyone to whom the Son chooses to reveal him."
Then turning to the disciples, Jesus said to them privately, "Blessed are the eyes that see what you see! For I tell you that many prophets and kings desired to see what you see, but did not see it, and to hear what you hear, but did not hear it."
New Revised Standard Version, copyright 1989, by the National Council of the Churches of Christ in the United States of America. Used by permission. All rights reserved. USCCB approved.
Dec 5, 2023
Finding Joy
Jesus rejoiced in the Holy Spirit. How delightful is the image found in these first words of today's Gospel? Jesus' joy at the Holy Spirit reminds me of something I once read by Meister Eckhart, a 13th-century Dominican. Eckhart wrote, "Finding joy in another person's happiness is like being in heaven."
Joy is impressionable, and it is relational. Early in infant development, human beings start to smile back. You've had that experience, haven't you, when someone else's smile stirs the muscles in your own face to contract? Babies take no issue with finding joy in someone else's happiness. But as we grow and become more like prophets or kings, it is easier to think happiness is something to be competed for and achieved. Truly blessed are those eyes and ears that can still be impressed by someone else's cheerfulness.
—Adam Bohan, SJ, is a Midwest Jesuit studying theology at Boston College.
Dec 5, 2023
Prayer
Star of the new evangelization,
help us to bear radiant witness to communion,
service, ardent and generous faith,
justice and love of the poor,
that the joy of the Gospel
may reach to the ends of the earth,
illuminating even the fringes of our world.
Mother of the living Gospel,
wellspring of happiness for God's little ones,
pray for us.
Amen. Alleluia!
—Pope Francis' Prayer for the Joy of the Gospel
Pray with the Pope
The Holy Father's Monthly Prayer Intentions Brought to you by Apostleship of Prayer the first Friday of each month.